Chiropractic Services
"Do what you can in the life that you live for what you believe in." - F.H. Barge, DC, PhD
Chiropractic care is much more than just relief of back or neck pain. It optimizes the relationship between the nervous system and the body. A misalignment (also called a subluxation) can affect organ and body systems through various nerve pathways. This can lead to altered function of those systems, resulting in inflammation, pain, and other health issues.

Full Spine Gentle Adjustments
Dr. Michelle uses a variety of techniques to find and correct subluxation. Everybody (in a very literal sense) is different and may require a different approach to care. We take an individualized approach during the first appointment to assess which techniques to use.

Extremities
Dr. Simons is trained to evaluate and adjust ankles, jaw, knees, hips, and wrists in a gentle and specific manner.

Cranio-sacral Work
Excellent for babies to promote proper latch during breastfeeding, can help alleviate headaches, and help with sinus drainage.
Thompson Technique
Thomspson Technique is a gentle technique that utilizes a special table that drops down to achieve the adjustment.
Diversified Technique
Diversified is the original hands on chiropractic technique.
What is SOT?
Sacro-Occipital Technique (SOT) is a system of adjusting patterns in the body, not just single body parts. The most significant pattern is the relationship between the sacrum and the occiput. Read more.
Logan Basic
Starting with the sacrum, the Logan system measures vertebral misalignment up and down the spine. Small adjustments treat the misalignment of the affected segment.
B.E.S.T. (Bio Energetic Synchronization Technique)
A non-forceful, energy balancing hands on procedure, B.E.S.T. helps to reestablish the full healing potential of the body. Read more.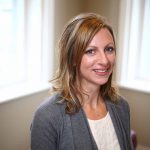 Meet Dr. Simons
Dr. Simons has a love for and dedication to the practice of chiropractic. Her goal and focus is to help the body achieve balance for optimal function. Read more here.